Waynesfield Police Department (Phone: 419-568-9080)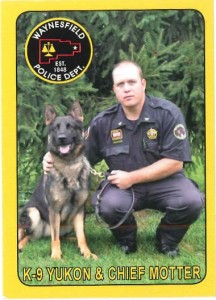 Founded in 1848, the Waynesfield Police Department has a rich history of keeping residents safe. The department has been under the leadership of Chief Nathan Motter since October 1, 2009. Prior to Chief Motter being named to the highest position in the department, he served as an auxiliary (volunteer) officer and part-time lieutenant with the WPD. Chief Motter is a 2005 graduate of Ohio Northern University (B.A.), 2003 graduate of James A. Rhodes State College/Lima Technical College, and a 1998 high school graduate of Waynesfield-Goshen Schools.
Since 2009 the police department has updated equipment, obtained grant monies, entered into the social media realm, and added a K9 unit. The progression has made the department more efficient, safer and better stewards of tax payer money.
The police department's philosophy is to be a department committed to excellence, being community-oriented, and taking a strong stance against the area drug problem. The department regularly participates in public relations events, such as doing K9 demonstrations, talking to civic groups about the law enforcement profession, and by providing a presence during well-attended community activities.
Additional information about the police department can be found at the Waynesfield PD Facebook page at https://www.facebook.com/waynesfield.pd. The phone number for the police department is 419-568-9080.
CLICK HERE TO PAY TICKET TO MAYOR'S COURT
Part-Time Police Officer Application Click Here